---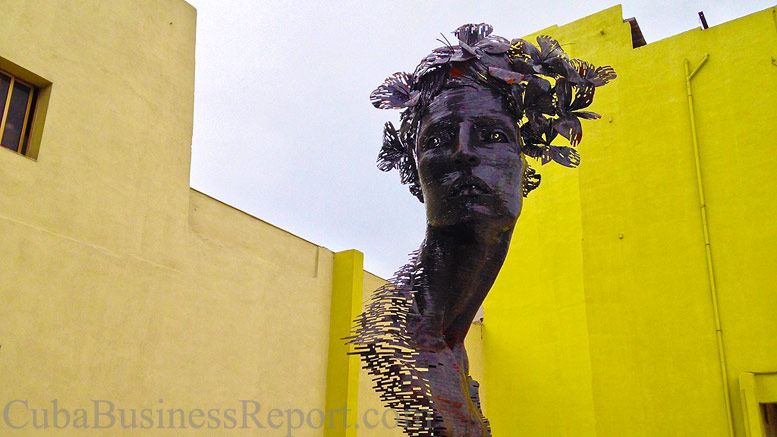 The international art world has descended on Havana to embrace its 12th Biennial art exhibition. With the current thawing of U.S. – Cuba relations, many may be tempted to think this is the first time the world has visited.  The fact is, since the late 1980s to early 1990s, Cuba has been opening up its beauty to the world.  Every two years since 1984, Havana has presented its artists and opened its streets and galleries in a celebration of art of "the South" and "the North."
Since its inception, the Havana Biennial has always been an international affair.  In a world that has become increasingly globalized over time, so has the nature of contemporary art.  Approximately 44 countries are participating in this year's exhibition. Artists from Latin America and the Caribbean, Canada, the United States, Austria, France, Italy, India, the Middle East and Africa, have joined in Havana's celebration.  The Biennial is an international showcase taking place in the streets, the museums, on the famous Malecón, the theatres, the town squares, the galleries, the Wifredo Lam Contemporary Art Center, and most importantly, the National Arts School (Escuelas Nacionales de Arte – ISA).
This 12th Biennial in Havana, entitled "Between the Idea and the Experience," runs from May 22 to June 22, 2015. Cuban and international artists will collaborate to produce art outside of the margin, the art of "the South," exhibiting and performing in both traditional and non-traditional urban spaces.
When the numbers are tallied, this will most certainly be the most attended Biennial because of the increased number of American visitors. Joint Cuban-American projects include the "Ruido Salvaje" exhibition, a project between the National Museum of Fine Arts in Havana and the Museum of Arts of the Bronx, and the ballet, "The Light in Cuban Eyes," named after a book on Cuban photography by American scholar Madeleine Plonsker.  The National Ballet School of Cuba and the Endedans Contemporary Ballet performed in a work with music by the prizewinning Cuban pianist Frank Fernandez and choreographed by Pedro Ruiz from the United States.
American artists have also brought their works to Havana. Most interesting is New York artist Duke Riley's absurd and little bit crazy idea of creating an ice rink in Havana. The ice will melt of course; it's only a matter of time. Riley's work symbolizes and celebrates the recent "thaw" in Cuba-US relations.
Artists from Lyon in France collaborated on a project together with six Cuban students. Lyon and Havana share similar experiences, both holding biennials and having important schools of art. The artists and students transform their shared house in Vedado into a public exhibition space. The space is altered and the artists and audience participate in the shared experience.
Appropriately named, "Between the idea and the experience," this year's theme unites the idea, the artistic experience and audience participation with the city.  The Havana Biennial expresses contemporary art's global aspect and nature, art and the artist outside of the margin, the conflict between social and economic differences between North and South.  Bringing art into Havana's public space, it challenges and connects our concepts of art and the experience of this city.
0 comments